11 February 2021 |

Our new record "My Lucky Own" is out !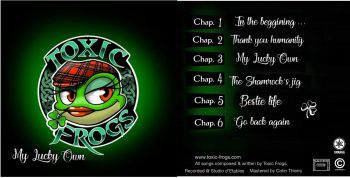 Our new record is out !
For the international please contact us in private message so that we can tell you the shipping costs.
Payment possible by bank transfer.
Toxic Frogs' new record «My Lucky Own» starts a more Irish turn than the previous ones by choosing to integrate a new instrument, the banjo, while still retaining the originality of the quartet and newly quintet from Lyon: the two violins.
It remains no less rock and free, but also festive and was thought and imagined as a record with drawers.
The story is based on the story of a character who chose to leave his homeland to try the
adventure of his life: to go on an assault on a better world, elsewhere…
From his journey at sea, marked by tragedies, to the discovery of his promised land, to
the many dangers he encountered along the way, and then to the grotesque wanderings
mingling with the discovery of a whole new culture, This man will also get dizzy on festive
nights and may find his Grail …
An extraordinary destiny that Toxic Frogs wanted to tell in music around six chapters.
A guest of choice, singer and musician Finny McConnell of the legendary Irish-Canadian
band «The Mahones» honored them with a duet on one of the EP's punches : Thank you
Humanity.